Bring a blanket, a picnic, a loved one for the world premiere of my new piece, 5 for 40, presented by Synchromy!
Serene and poignant, 5 for 40 creates a soundscape for our disquieted times using repurposed organ pipes. From a church decades-since demolished, these pipes have been retrofitted to be human-powered, changing the nature and source of their sound. Synchromy has set 5 for 40 amongst the Tabebuia Trees of a quiet terraced garden.
I wrote the score for 5 for 40 in August of 2020. The skies of LA were a thick grey from the nearby Bobcat Fire, and the air was smokey. Whole charred leaves from the San Gabriel Mountains drifted into our backyard and, combined with half a year of pandemic isolation, made the world seem particularly apocalyptic. 5 for 40 was my response to that time, along with my continued interest in presenting music outdoors. The stillness of the piece hopefully offers an invitation to be present outside and just listen – to sounds both intentional and unintentional.
Note: 6-inch Sandwiches from the Eastside Italian Deli are available for pre-order, and must be ordered a week before the event. They will be distributed to you at the park when you arrive.
The Los Angeles Electric 8 created a beautiful recording of my piece Circle Limit III – produced, mixed, and mastered by Felix Salazar. This album is out today on MicroFest Records!
The best way to hear Circle Limit III is a limited-edition double disc package, including a stereo CD and a 4.1 surround Blu-Ray.
Circle Limit III is also available to stream on most major platforms, including a stunning surround mix on Apple's Spatial Music.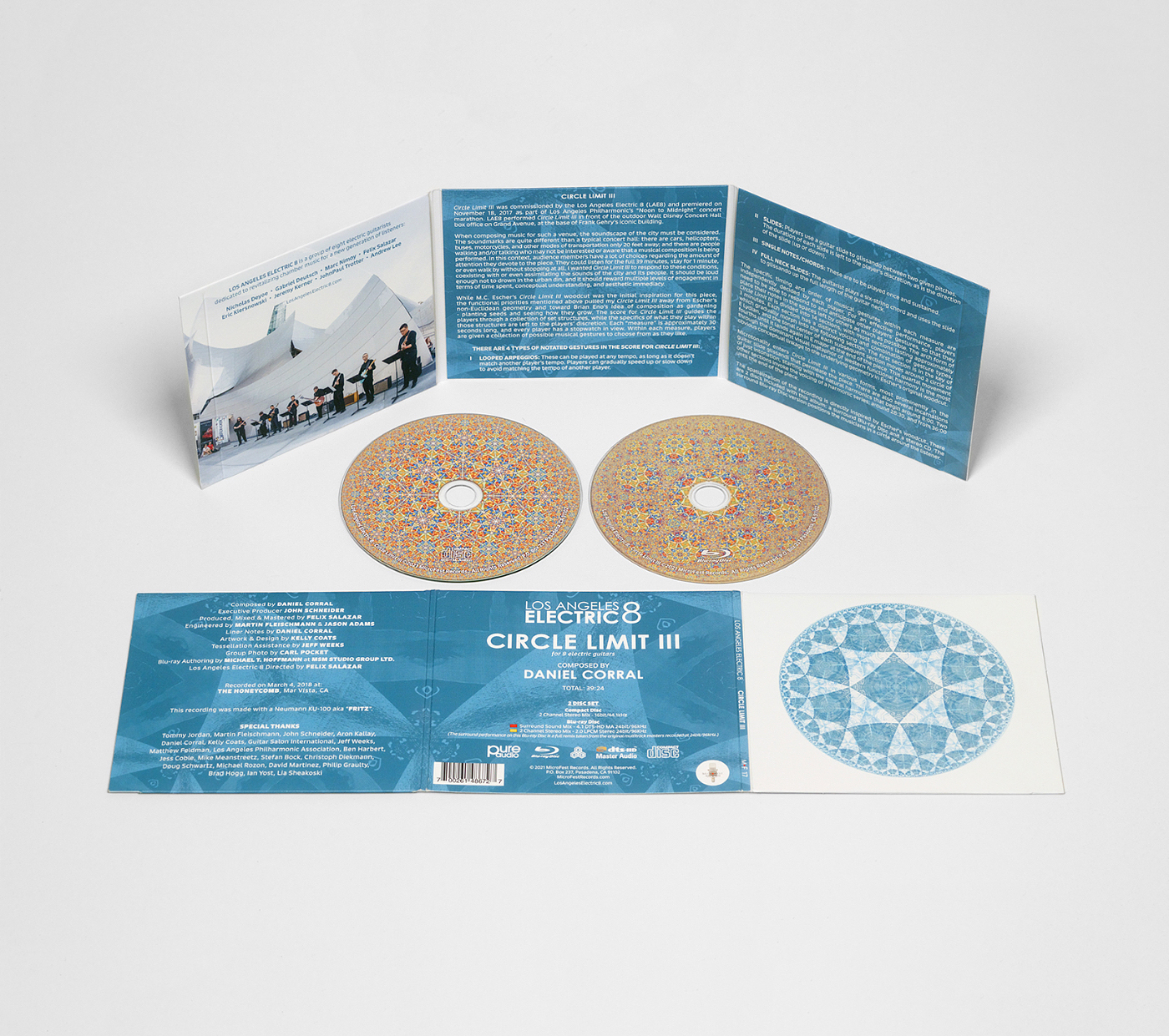 "…a stunning wall of sound as aural complement to Gehry's steel"
— LA Times
"…Circle Limit III, by Daniel Corral, gracefully flowed outward in a warm ambient wash. The piece was never static… with the sound rising, falling and slowly shimmering in the bright afternoon sunshine. The harmonies were lush and comforting and worked to subvert the frenetic sounds of traffic out in the street. Circle Limit III was perfectly chosen for the sidewalk and fully captured the imagination of the crowd – listening and looking down Grand Avenue became a strangely calming and unexpectedly peaceful experience."
— Sequenza 21
Have you ever wondered what a duet for violin and ocean waves sounds like? Have you ever tried to listen to the electromagnetic field of the earth?
Music for Your Inbox presents my new piece Hodad – a collaboration with violinist Myra Hinrichs that explores these questions – as the March edition of their 2021 season!
Sign up by March 10 to receive an online video of Hodad and a limited-edition [physical] postcard.
The video is a 20 minute performance of Hodad by Hinrichs, playing at Trestles Beach at sunset and responding to the rhythms of the ocean waves. Music for your Inbox will also mail you a limited edition postcard featuring artwork by Janelle Iglesias.
If you're Hodad–curious but unsure what it's all about, please check out the Micro Moment video below, presented by MicroFest LA.
I led my first pandemic-era performances on Saturday night:
A live stream version of my 2013 piece Dislike as part of CultureHub LA's Re-Re-Generation.
The next performance of my music will be on November 14, 2020.
REDCAT will present an online event featuring Concerto for Having Fun with Elvis on Stage and Count In.
Concerto for Having Fun with Elvis on Stage is a collaboration with Alexander Gedeon and the Now Hear Ensemble, and Count In is a video piece.
I was recently asked by pianist Lorenzo Marasso to write a short piano piece in response to Bach's Invention #13 in Am. My piece is cleverly titled Canon in A Minor. It's a strict canon at the octave, with the two voices one 16th note apart from each other.
Lorenzo will play Canon in A Minor along with pieces by 14 other composers this Sunday 7/26 at 6pm, live-streaming on YouTube and Facebook.